New Software Will Prevent F-35 Pilots from Flying into the Ground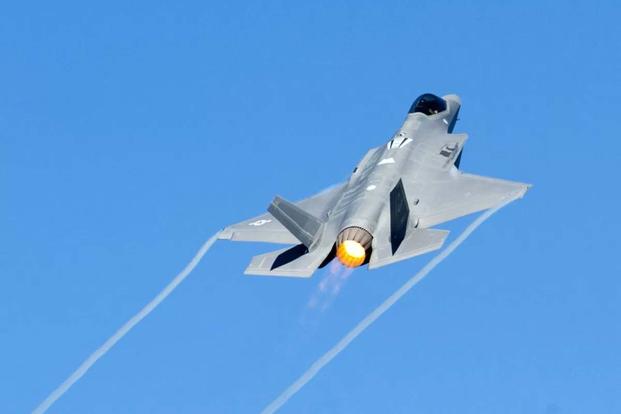 A U.S. Air Force F-35 Lightning II demonstration aircraft takes off during the AirPower over Hampton Roads Open House at Langley Air Force Base, Va., April 24, 2016. (U.S. Air Force/Senior Airman R. Alex Durbin)
Even experienced fighter pilots are at risk of a phenomenon known as Controlled Flight Into Terrain, or CFIT.
In 2016, it claimed the life of Marine Maj. Richard "Sterling" Norton during F/A-18 Hornet training at 29 Palms, California.
Bottom line: When you're multitasking in mid-air at speeds of up to 1,000 miles per hour, it's easy to get disoriented.
But the military's F-35 Joint Strike Fighter is about to get a new automatic technology that will prevent pilots from flying into the ground by mistake. And it's coming about five years earlier than scheduled.
The F-35 Joint Program Office announced this week that the aircraft will receive the automatic ground collision avoidance system, or Auto-GCAS, software that initiates an automatic recovery maneuver when "impact with the ground is imminent."
It uses GPS positioning and altitude readings to predict upcoming collisions, according to a JPO release.
When a crash is imminent, the system warns the pilot to prompt a recovery maneuver. But if no action is taken, Auto-GCAS will take over, righting the aircraft and executing a 5-G pull to get the plane safely off its collision course.
Only after the threat has been avoided does the system hand controls back to the pilot.
Auto-GCAS has been in use by the Air Force's F-16 Fighting Falcon fleet since 2014 and has been credited with saving the lives of seven pilots in six different aircraft.
In one dramatic episode reported in 2016, an Arizona Air National Guard pilot was saved after losing consciousness in the cockpit and entering a dive. Unclassified footage of the episode shows the aircraft headed for the ground like a missile before the system intervenes.
"As the first recorded save happened just four months after completion of [F-16] testing, the F-35 Joint Program Office has placed a premium on the quickest possible implementation of Auto-GCAS," JPO officials said in the release.
The move comes as the Marine Corps' F-35B prepares to depart on its first shipboard deployment in the Pacific later this year, closely followed by another deployment that is expected to include operations in the Middle East.
Officials with the Joint Program Office did not immediately provide responses to Military.com questions about which aircraft squadrons or which variant would be the first to receive Auto-GCAS. But it's supposed to be installed across the fleet by 2019.
The program executive officer for the F-35, Vice Adm. Mat Winter, said officials estimate expediting the technology, given existing statistics, will save three aircraft and three pilots.
"Our acquisition team is working with the warfighters to ensure Auto-GCAS is in every F-35," Winter said in a statement. "... Over the service life of the F-35 fleet, having Auto-GCAS is estimated to prevent more than 26 ground collisions from happening."