Sjekk Delta-passasjerer med håndbagasje under evakuering.... Umulig å få bukt med det. (Red.)
Accident: Spirit A319 near Orlando on May 3rd 2018, fumes cause three flight attendants feel unwell
A Spirit Airlines Airbus A319-100, registration N512NK performing flight NK-902 from Dallas Ft. Worth,TX to Orlando,FL (USA), was descending towards Orlando when an odour of musty dirty feet began to develop in the aft cabin, a number of passengers began to complain about the odour, 3 cabin crew began to feel unwell, light headed with nausea, headache and stomach cramps. The captain instructed the cabin crew to use their oxygen bottles and performed a rapid descent to 10,000 feet and continued to Orlando for a landing without further incident. The three affected cabin crew went to the emergency room.

The occurrence aircraft remained on the ground in Orlando for 2:20 hours, then departed for flight NK-405 to Dallas Ft. Worth.

The FAA reported on May 7th 2018: "the FAA is looking into the reported fume event on a Spirit Airlines flight on May 3, 2018, (DFW-MCO), involving an Airbus A319 N512NK."
Incident: Gol B737 at Curitiba on May 7th 2018, rejected takeoff due to burning odour
A Gol Transportes Aereos Boeing 737-700, registration PR-GEA performing flight G3-2089 from Curitiba,PR to Rio de Janeiro Santos Dumont,RJ (Brazil), was accelerating for takeoff from Curitiba's runway 15 when the crew rejected takeoff at low speed due to a strong burning odour. The aircraft slowed safely and returned to the apron.

Passengers reported the crew explained the stench was due to a problem with the air conditioning.

The aircraft was able to depart about 3.5 hours later and reached Rio de Janeiro with a delay of about 3:15 hours.
Incident: Allegiant A319 near Asheville on May 6th 2018, electrical odour on board
An Allegiant Airbus A319-100, registration N325NV performing flight G4-1878 from Indianapolis,IN to Myrtle Beach,SC (USA) with 117 passengers and 6 crew, was enroute at FL370 about 80nm northnorthwest of Asheville,NC (USA) when the crew decided to divert to Asheville due to an electrical odour that had already persisted for several minutes. The aircraft landed safely on Asheville Regional Airport's runway 34 about 25 minutes later.
The airline confirmed the aircraft diverted to Asheville Regional due an electrical odour persisting for several minutes out of abundance of caution. Maintenace was unable to determine the source of the odour. The passenger were taken to Myrtle Beach by a replacement aircraft.
A replacement A319-100 registration N301NV reached Myrtle Beach with a delay of 5:45 hours.
The occurrence aircraft returned to service after about 16 hours on the ground.
Delta flight evacuated because of smoke in the cabin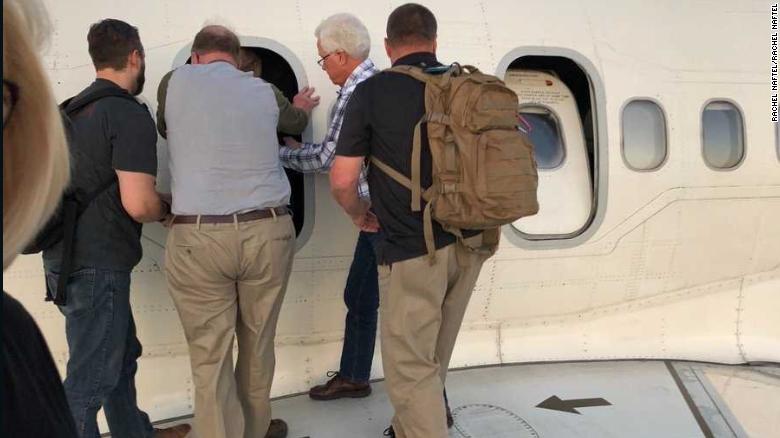 Passengers deplane Delta flight 1854 in Denver using slides and over-wing exits after smoke is observed in the cabin. The flight originated in Detroit



(CNN)Passengers on a Delta flight from Detroit to Denver deplaned via slides and over-wing exits due to an observance of smoke in the cabin, according to Delta spokesman Michael Thomas.

Some passengers may have suffered minor injuries, including smoke inhalation, the airline said. There was no observance of fire.

One passenger Tweeted that "fumes came through the vents."

More pictures. We're all inside waiting for info and our bags. We all keep saying how bad our mouths taste still after breathing it.

Another passenger said the

cabin filled with smoke

as the plane landed.

"The oxygen masks never came down and people began to freak out," D.J. Semenza told CNN. "The crew tried to keep calm and eventually called for an evacuation."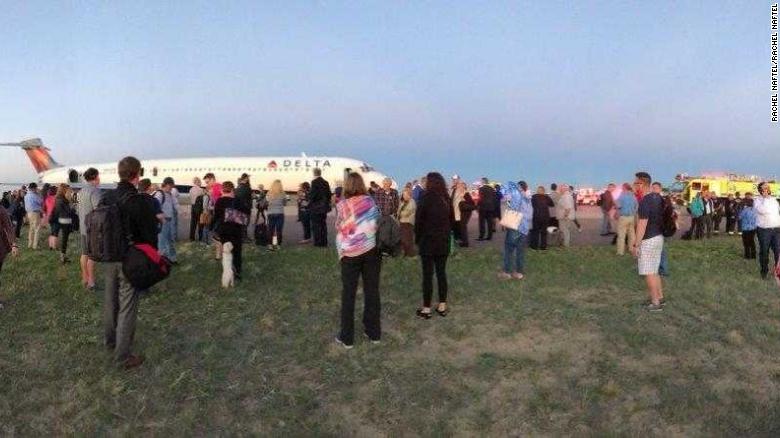 The smoke was detected prior to the plane reaching the gate, said Denver International Airport spokeswoman Emily Williams. Passengers were bused to the concourse.
American Airlines jet makes emergency landing in Chicago after 'cockpit fills with smoke' in midair

Travellers on flight AA2587 claimed to see 'white mist' seeping from the cockpit shortly after taking off from Chicago

AN American Airlines jet has made an emergency landing after it "filled with smoke" while in midair.

According to a passenger, the smoke was coming from the plane's cockpit.

The American Airlines aircraft was forced to make an emergency landing

Travellers on flight AA 2587 reported seeing white mist shortly after taking off from Chicago O'Hare airport.



Bruce Clark tweeted: "Texts from my dad enroute to Tokyo on @AmericanAir via ORD to Dallas - "smoke in cockpit, making emergency landing."



A spokesperson for the company responded on Twitter: "We're returning safely back to ORD, and we plan on changing out the plane. Safety is a top priority and we'll have your dad on his way soon."

The American Airlines jet was forced to return to Chicago O'Hare airport

American Airlines said in a statement that flight 2587 from Chicago to Dallas Forth Worth returned to Chicago after the crew reported a "possible odor in the cabin."

"The aircraft, an Airbus 321 with 175 passengers and a crew of six, landed safely and taxied to the gate," the statement read. "The aircraft will be evaluated by our maintenance team, and we apologise to our customers for the inconvenience."
Incident: Austrian A320 near Bucharest on May 8th 2018, burning wires
An Austrian Airlines Airbus A320-200, registration OE-LBY performing flight OS-836 from Larnaca (Cyprus) to Vienna (Austria), was enroute at FL360 about 75nm west of Bucharest (Romania) when the crew requested to divert to Bucharest due to a technical problem, they were not declaring emergency, they had some burning wires, the fire was not persistent however, there was a smell in cabin and cockpit, for safety they wanted to divert to Bucharest. The aircraft turned around and diverted to Bucharest for a safe landing on runway 26L about 25 minutes later.

The occurrence aircraft remained on the ground in Bucharest for about 5.5 hours, then continued the flight as OS-1474 for Vienna and reached the destination with a delay of about 6 hours.