Air Force trying to widen pilot pool with benefits, but still can't catch up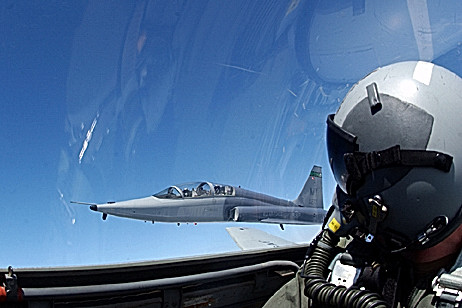 It's no secret that the Air Force is hurting for pilots and as the service begins to assess what it needs for the next year, giving incentives to pilots to stay in public service is a high priority.
In an exclusive interview with Federal News Radio, Director of the Air Force Aircrew Crisis Task Force Brig. Gen. Michael Koscheski said the Air Force's shortage still clocks in at about 1,500.
The Air Force most recently announced its second assignment in place program to try to keep the pilots it has in their jobs.
"We've listened to our pilots and our aircrew and they said they want stability. It's one of the big things they want for a lot of reasons - family, schools, spouses working - and so we take that limited career field of instructor pilots that's at a base and when they come up on their three year assignment we are offering them a second assignment in place so we can give them six years at the same location and we retain that critical instructor pilot expertise that we are targeting. There seems to be a lot of interest in the field," Koscheski said.
The Air Force wants to recruit about 100 pilots for the program.
While that effort is getting underway, the leaders of the Air Force have been meeting with major airlines to find ways to deal with the worldwide pilot shortage.
Both Air Force Chief of Staff Gen. David Goldfein and Air Force Secretary Heather Wilson had separate summits with private airlines in the past months.
"The chief's big push is this is a national crisis. The airline industry is looking to double globally over the next 20 years so this is a long term growth in terms of the civilian market. They are short on pilots. It's sort of a pipeline or cascading effect because the major airlines need more pilots, they are taking pilots from the regionals quickly and then the regionals are getting them from your civilian flying schools and they are struggling to keep up. We need to build a sustainable long term model where we have a larger pool of pilots nationally to pull from," Koscheski said.
The Air Force has a roll in that by building up and training its pilot force. But Air Education and Training Command director Lt. Gen. Darryl Roberson said this week that the Air Force can't produce the number of pilots it needs.
Roberson said the Air Force needs to put out 1,600 a year to stay on track. Right now it is producing 1,100 and wants to hit 1,400 in the next few years.
"We're maximizing the use of our air frames to the fullest extent that we can right now," Roberson said. "We can only produce so many flying training sorties per day, and that's going to be exceeded."
That's not being helped by repeating continuing resolutions that cut the Air Force fiscal year, leaving them unable to start new training programs.
The Air Force is considering options like a national pilot training academy funded by airlines and military to work on the shortage problem.
"Some of the near term things are looking at when we have Guard and Reserve pilots. A lot of them work for the airlines and work part time for us. We want to look at ways to create win-win situations for both the airline industry and get maximum use of those pilots for what we need in the military. That's a near term thing we can do quickly," Koscheski said. "In more of the longer term piece would be looking at a national training academy or public private partnership with pilot schools and then once we create a sustainable pipeline of civilian pilots then look to have military pilots potentially co-trained with civilian pilots so we have an overall larger pool of pilots for a lower cost for everyone."
Pilots aren't the only place the Air Force is hurting. Maintainers are in an even bigger deficit for the Air Force. The service has been forced to bring on private contractors to fix and maintain planes and other craft.
The Air Force is struggling to keep its pilots in the service too.
The trouble comes when pilots are up for reenlistment.
Military pilots have training and hours required to qualify to fly for the major airlines without having to work for smaller regional airlines first.
"Because major airlines work on a seniority system, the best opportunity for salary growth in the major airlines occurs for military pilots leaving after their initial service obligation," a July 2016 RAND report stated. Another factor that is appealing to military pilots is the Federal Aviation Administration increased the mandatory retirement age for pilots from 60 to 65 in 2007, giving pilots longer to cash in on their talents.
The RAND study states commercial airline pay has rebounded to mid-1990s peak salaries of $200,000.
Meanwhile, the Air Force can only offer a comparatively meager reenlistment bonus. The Air Force convinced Congress to increase the bonus to $35,000 this year. The Air Force also changed its reenlistment structure so pilots can reenlist for up to 13 years with the bonus pay guaranteed.